When the file you uploaded is "rejected", this means it did not meet the minimum qualitative standards to be processed correctly by our platform. We will go over two notions in this article:
How to I read my error log and correct my file
The meaning of the quality indicators
To correct your file:
1. Select the download icon and download your error log.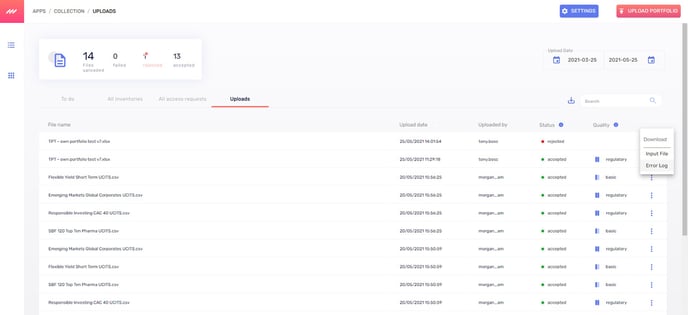 2. Review the Error Log which indicates which error is contained in which column and line of your input file.

3. Upload the corrected version of your input file, which should now be accepted by the platform.
Quality indicators
The Manaos platform qualifies the quality level of your file into two categories:
Regulatory: This means your file meets regulatory reporting standards such as Solvency II
Basic: This means your file meets basic reporting standards such as ESG reporting
If you client requires regulatory reporting standards, be aware that a "Basic" quality status is insufficient and they will require you to correct your file to meet regulatory reporting standards.