When you select your "Collection App", you'll find a dashboard to help you manage your portfolios and access requests.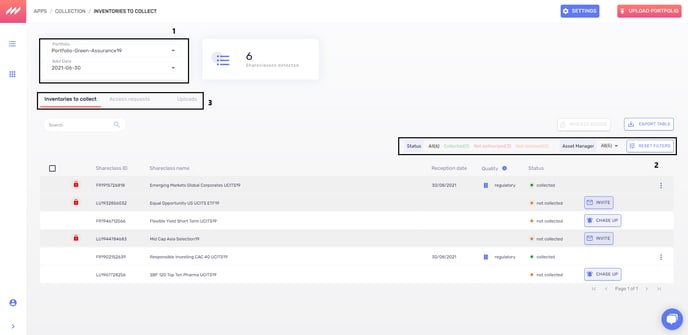 (1) Your portfolio indicator: get a quick look the id and NAV date of portfolios you uploaded on our platform
(2) Your share class management indicator: see the total number of detected share classes uploaded on Manaos and the different statut of your inventories (Collected, Not authorized, Not received). You can apply a filter on the different asset manager. Click on "All" between "asset manager" & "reset filters" and selected the asset manager do you want to see.
(3) Your working dashboard: closely manage all actions on one dashboard
Inventories to collect : Lists your inventories
Access requests: Allows you to manage all access requests with your partners
Uploads: Audit trail of every file uploaded on Manaos